Aquabotix Scores USN Funding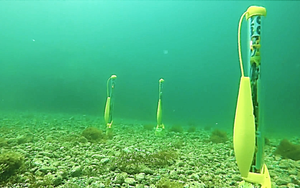 Aquabotix Technology Corporation was granted an award of $78,000 in non-dilutive hardware integration funding from the United States Navy's Naval Undersea Warfare Center (NUWC) to deliver a solution geared towards unexploded ordnance missions for the United States Navy. After delivery, this solution will be incorporated into Aquabotix's key product SwarmDiver or other unmanned underwater vehicles manufactured by Aquabotix, to support unexploded ordnance detection missions by the United States Navy and allied forces.

Ordnance that was disposed of or did not explode when deployed in previous conflicts poses a risk of detonation, even decades later, and is found in shallow waters across the globe. A Texas A&M University study estimated there are over 13.6 million kilograms of ordnance just in the Gulf of Mexico alone. To avoid accidental detonation of these explosives, mission support is required to detect, locate, and neutralize them.

Current methods of detecting and locating unexploded ordnance are time consuming and expensive to conduct; however, adding unexploded ordnance detection and location capability to the Aquabotix product lines changes this. Because of the low cost of Aquabotix's products, the company is able to provide a solution to its navy customers at a "disposables" price point, yet its products are recoverable for continued use rather than disposable, a substantial and attractive point of difference for end-users. Further, the fact that Aquabotix's products are also capable of taking readings at multiple locations simultaneously, enables U.S. and allied forces to more efficiently find and neutralize these threats using the products.

This initial funding from the Navy supports continued SwarmDiver product development that is tailored to provide a solution for a sizable and currently otherwise unaddressed governmental need.

Detection and neutralization of unexploded ordnance is one of many uses for SwarmDiver, and the company is actively pursuing multiple opportunities for a range of uses and modifications of SwarmDiver with the various branches of the United States military.




Jun 25, 2018