Aquaculture: Huon Expands ROV Fleet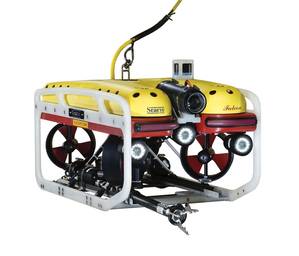 As the offshore aquaculture business continues to grow, so too do the number of in-water and subsea tools to do the business more efficiently. Huon Aquaculture , with more than 24,000 tonnes of fresh salmon farmed a year, reports that it recently invested again in underwater robotic technology, doubling its fleet of Saab Seaeye Falcons from two to four vehicles to help it inspect nets, rigging and moorings at Huon's aquaculture pens.
The pens are positioned in areas of strong current and rough water favoured for salmon farming as it mimics their natural habitat.
The Falcon's iCON behaviour-based intelligent control architecture offers precise positioning and active station-keeping to let the operator concentrate on the task in hand thereby reducing their workload.
Huon sees the Falcon as ideal for aquaculture operations as its low profile allows deployment sideways between a walkway and the net. They also like that its thrusters have no shaft seals to service or inspect and no oil within the vehicle.
Aug 23, 2018