Aurizon in Talks to Buy Debt-saddled Coal Port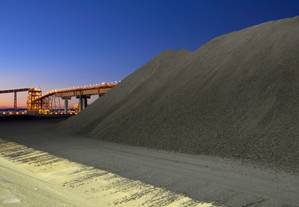 Australian coal rail operator Aurizon Holdings said on Monday it was in talks to buy the Wiggins Island Coal Export Terminal (WICET), which urgently needs to restructure $3 billion in debt.
A purchase would mark a change in strategy under new Chief Executive Andrew Harding for Australia's largest rail freight operator, which runs nearly 2,700 kms (1,680 miles) of rail lines transporting millions of tonnes of coal a year.
A successful deal would also be a relief for mining giant Glencore and four partners who face a September 2018 deadline to start paying down the debt on the world's most expensive coal port.
"It is strategically sensible for Aurizon to be considering the acquisition of WICET," said Morgans Stockbroking analyst Nathan Lead. "It's already providing the rail logistics into the terminal, so an acquisition would be a vertical integration play."
Aurizon said it was in preliminary discussions with undisclosed parties for a deal that would see it acquire the coal terminal, while "other consortium members" would acquire one or more of the coal mines that use the port.
Macquarie Group is another consortium member, the Australian Financial Review reported. Macquarie declined comment.
The deal could involve Macquarie buying Glencore's Rolleston mine and Wesfarmers Ltd's Curragh mine, both of which use the port and are up for sale, a person familiar with the situation told Reuters.
The source declined to be named as talks are confidential.
Glencore said in a statement emailed to Reuters that it was seeing "strong interest" from a number of parties for the Rolleston mine.
WICET was built to service a consortium of eight coal companies. It was funded entirely by debt backed by port fees on 27 million tonnes of coal a year, whether that volume was shipped or not.
The port is exporting much less than that as three of its original eight users have folded, meaning the remaining five partners must shoulder all of the port's debt and port fees.
As a result, they pay about $25 a tonne at WICET - about five times the port fee at the adjacent RG Tanna terminal.
One of the aims of the Aurizon deal is to bring down port charges.
"Through restructuring and the proposed introduction of lower, market-competitive port charges, there would be incentive for miners to increase throughput at the port," Aurizon said.
If the port is not refinanced by September 2018, loan terms require Glencore and its partners to pay off the full $3 billion over the following decade.
Since Harding took over in December after 24 years with Rio Tinto, Aurizon has quit its loss-making freight business, allowing it to focus on coal haulage.

(Reporting by Sonali Paul and James Regan, additional reporting by Rushil Dutta; Editing Stephen Coates and Richard Pullin)
Nov 13, 2017