Austal USA Wins $43 Million LCS Services Contract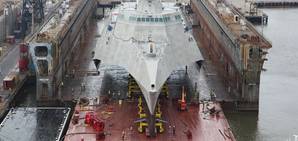 Mobile, Ala. shipbuilder Austal USA said it has been awarded a modification to previously awarded contract with a total potential value of $43,362,000 by the U.S. Department of Defense. This contract was modified to exercise the options for Littoral Combat Ship (LCS) Class design services, material to support LCS Class design services, and the Integrated Data Product Model Environment (IDPME).
Austal will provide LCS Class design services to all LCS ships and services may include program management, fitting out services, change processing, software maintenance, engineering and lifecycle efforts, it said. Austal will also maintain an IDPME that shall enable Navy access to enterprise LCS data management.
In 2004, the U.S. Navy awarded a final design contract for the LCS to Bath, Maine shipbuilder Bath Iron Works. Austal designed the seaframe and built the 418 foot aluminum trimaran ship. The first order for a prototype was awarded to the BIW and Austal LCS team in October 2005 and a contract for a second BIW and Austal LCS was awarded by the Navy in May 2009. In December 2010, Austal, now as prime contractor, received a Navy contract worth over $3.5 billion for construction of up to 10 more LCSs. The first ship in the 10-ship block buy, the USS Jackson (LCS 6) was delivered to the Navy in August 2015. Since then, the Navy has awarded Austal several additional LCS contracts increasing the Navy's total buy to 19 Independence-variant ships. The Independence-variant LCS that have been delivered to the Navy are homeported in San Diego.
At any one time, there are usually at least six LCS under various stages of construction simultaneously at Austal's Mobile, Ala. facility. Austal is able to deliver two LCS per year.
The Independence-variant LCS is a high-speed, shallow draft multi-mission ship capable of operating independently or as part of a battle group. The LCS provides the Navy a lethal platform to conduct littoral and open ocean operations. With recent lethality upgrades, to include the Naval Strike Missile, the LCS is conducting a broader range of missions in the western Pacific, including Freedom of Navigation operations. These ships are designed to defeat growing littoral threats and provide access and dominance along coastal waters. A fast, maneuverable and networked surface-combatant, LCS provides the required war fighting capabilities and operational flexibility to execute focused missions such as surface warfare, mine warfare and anti-submarine warfare.
Jun 24, 2020