Baltic Cruise Boom Boosts Chances for Port Cities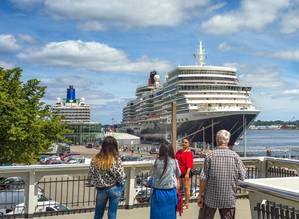 Good opportunities for local port cities are up for grabs as a cruise shipping boom sweeps the Baltic. Both Rostock and Kiel are already profiting from it.
Between them they are expecting 1.3 million cruise ship visitors during this year's season - an increase of 12.5% over last year. The managing directors of Germany's two leading Baltic passenger ports, Rostock and Kiel, addressed the issue during a news conference at the ITB, the world's leading travel trade fair in Berlin.
The Managing director of the Port of Rostock (Rostock Port GmbH) Jens A. Scharner and Dr Dirk Claus, Managing Director of the Port of Kiel spoke about the trend to sea travel in northern Europe and about new developments in the two Baltic ports.
Dirk Claus said: "Interest in Baltic cruises continues to rise on both the international and national markets. There are now well over two million German cruise shipping passengers and almost one in four of them books a northern Europe trip."
This is reflected in the number of cruise ship visits to Rostock and Kiel which has risen again this year and now stands at a total of 371. Jens A. Scharner said: "The Baltic region has many attractive tourist destinations to offer, and they are all right on the doorstep for a growing German source market. Kiel and Rostock are also ideally located as cruise starting ports and are, at the same time, attractive places from which international passengers can go on land excursions during running cruises."
Baltic ports are investing in the development of their terminal facilities and can offer both passengers and shipping companies first-class infrastructures and the best possible service. In Rostock work will start in October on construction of a new handling building at Berth P8. It is planned to complete that facility in April 2020.
The 2018 cruise shipping season on the Warnow River begins on April 8th with the arrival of Fred. Olsen Cruise Lines' "Boudicca". This year a total 205 visits by 43 different cruise ships are expected. Some 700,000 cruise ship passengers - an increase of 9% over last year - will board or disembark, 300,000 of them transit passengers.
About 600,000 cruise ship passengers - 17% more than last year - are expected in the port of Kiel in 2018. The season starts on April 6th and lasts until the end of October. A total of 166 calls by 32 different cruise ships have been registered. The total tonnage of all the ships involved will pass the11 million GT mark for the first time.
Mar 11, 2018