Was Blackbeard an Avid Reader?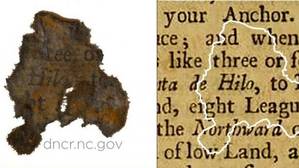 What did Blackbeard and his pirate crew read on board Queen Anne's Revenge?
Artifacts unexpectedly discovered in the wreckage of Blackbeard's sunken flagship are helping researchers to determine if the infamous pirate captain and his 18th-century crew were literate and what sort of books they kept on board.
While performing conservation work on artifacts recovered from the centuries old shipwreck, archaeological conservators with the North Carolina Department of Natural and Cultural Resources' Queen Anne's Revenge Conservation Lab discovered 16 tiny fragments of paper - some still with legible printed text - in a ball of wet sludge lodged in one of the ship's cannons.
Although very few words were visible and the largest fragment was only about the size of a quarter, conservators working to preserve the fragile paper were eventually able to identify where they were from.
Months of research revealed that the paper fragments were from the 1712 book, "A Voyage to the South Sea, and Round the World, Perform'd in the Years 1708, 1709, 1710 and 1711," a voyage narrative by Captain Edward Cooke describing his adventures on the high seas.
Voyage narratives were popular in the late 17th and early 18th centuries, and the DNCR said books like the one found on Queen Anne's Revenge would have been fairly common on ships of the time, yet archaeological evidence for them is exceedingly rare as paper usually disintegrates very quickly under water, meaning the material is rarely found on shipwrecks - especially one that is 300 years old.
"The historical record has several references to books aboard vessels in Blackbeard's fleet, but provides no specific titles; this find is the first archaeological evidence for their presence on QAR," the DNCR said. "This find represents a glimpse into the reading habits of a pirate crew,"
"This unique find . . . provides archaeological evidence for books carried on ships in the early 18th century, and adds to our knowledge of the history of Blackbeard's flagship and those who sailed her."
A display to showcase the find is being planned as part of the department's Blackbeard 300th anniversary events during 2018.
Jan 12, 2018