Bourbon to Support Total in Namibia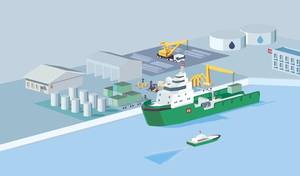 Bourbon Marine & Logistics announced on Monday that it has been awarded an integrated logistics contract from Total to support the supermajor's deep offshore exploration campaign in South Namibia in 2020. The project scope covers provision of logistics base, freight forwarding, custom clearance, material storage & warehousing, handling and lifting, marine port visits support along with tank cleanings and logistics operations planning and conduct (material and personnel).
Bourbon said it will provide integrated logistics services through a local branch Bourbon Logistics Namibia with a local partner Logistics Support Services (LSS).
The project started early August 2019 and should last approximately one year with drilling activities expected in the first semester 2020. The operations will be managed out of Lüderitz, a port in the south of Namibia.
Grégoire Durand, VP Oil & Gas logistics of Bourbon Marine & Logistics, said, "The deployment of such integrated services contract for our number one customer prefigures a new way of sustainable cooperation and optimized services delivery to our customers."
Nov 18, 2019