Port Canaveral Hosts Briefing on LNG as Maritime Fuel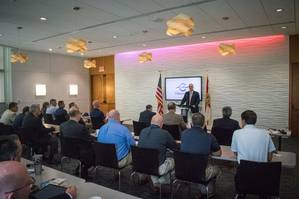 "We know that natural gas is one of the cleanest, most environmentally-friendly fuels available today," said Capt. John Murray, CEO at Port Canaveral, who recently hosted a briefing on the use of liquefied natural gas (LNG) as a maritime transportation fuel. "We wanted better understanding of LNG as a maritime fuel, as well as best practices globally to support vessels powered with natural gas."
The briefing was led by Federal Maritime Commissioner William Doyle, who has spoken extensively in support for natural gas as a marine fuel, especially with regard to meeting international environmental standards.
Natural gas, and its consideration for use as a primary fuel for ship propulsion, is quickly gaining momentum in the maritime industry to help meet global environmental standards scheduled to take effect January 1, 2020. The new regulations, established by the International Maritime Organization (IMO), set strict limits for global sulfur content of shipboard fuel oil.
FMC Commissioner Doyle provided a briefing on recent international regulatory activity and the IMO's 10-year effort to develop the international standards that will eliminate pollutants emitted by marine engines. Attendees at the discussion included Port Canaveral leadership, staff, port partners and tenants, representatives of the U.S. Coast Guard, Brevard County Sheriff's, Canaveral Fire Rescue and Canaveral Pilots Association.
Doyle has been a vocal proponent of the development of U.S. natural gas resources and its impact on the U.S. energy and transportation landscape in helping to improve U.S. energy security while spurring economic development and job creation around the country.
Aug 11, 2017