Canyon Charters Otto Candies Vessel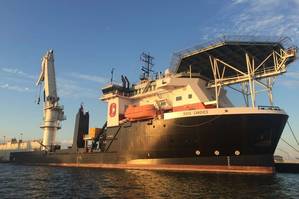 Subsea services company Canyon Offshore said it has entered into an agreement with vessel owner Otto Candies for the charter of the Jones Act-compliant inspection, maintenance and repair (IMR) vessel Ross Candies.
The charter will commence in July 2019 upon completion of a previously scheduled regulatory dry dock. Canyon, the robotics division of Helix Energy Solutions Group, said it expects the vessel to support IMR operations for clients operating in the U.S. Gulf of Mexico.
Jeremiah Hebert, Vice President Americas Region of Canyon Offshore, stated "Canyon Offshore is pleased to announce we have signed this long term charter agreement with Otto Candies for the M/V Ross Candies, a Jones Act and Coastwise Trade compliant DP 2 vessel. This charter brings together two best in class service providers with a common goal of supporting deepwater oil and gas operators in the Gulf of Mexico, safely and cost effectively."
Otto B. Candies Jr., Chairman of the Board for Otto Candies, said "We are pleased to charter the Ross Candies to Canyon Offshore as we actively seek opportunities to develop new partnerships with leaders in the offshore industry."
May 2, 2019