LNG Carrier Delivered to Nakilat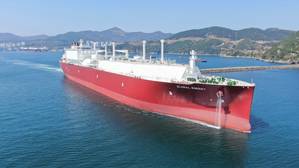 Qatari shipping company Nakilat took delivery of a newbuild liquefied natural gas (LNG) carrier Global Energy. Built by South Korea's Daewoo Shipbuilding & Marine Engineering (DSME), the vessel will be managed in-house by Nakilat and is the first of four LNG carrier newbuilds to be delivered to Global Shipping Co. Ltd., a joint venture of Nakilat (60%) and Greece-based Maran Ventures Inc. (40%). The delivery of all four newbuilds by end-2021 will bring Nakilat's fleet to 74 LNG carriers, or just under 12% of current global LNG fleet in carrying capacity.
"The addition of this technologically-advanced newbuild to our fleet not only gives us a competitive edge, but also allows us to provide additional capacity and flexibility to our customers, which is important in a dynamic marketplace," said Nakilat's Chief Executive Officer Eng. Abdullah Al Sulaiti. "We have seen a shift in terms of management and vessel technology in the industry, which we have taken into consideration. Constructed in South Korea, the four modern vessels each have a cargo carrying capacity of 173,400 cubic meters, equipped with some of the most advanced technology in the market today, with two of them being equipped with ME-GI while the other two with X-DF propulsion technologies. These vessels also feature modern structural design and employ other advanced technologies."
May 20, 2020