Coast Guard Receives New Response Boats in Alaska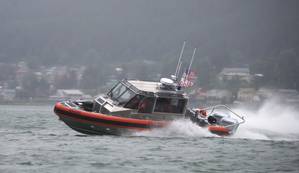 A new batch of response boats have been delivered to U.S. Coast Guard stations in Alaska this summer as part of the service's initiative to replace older vessels that have reached the end of their planned service life.
The five new 29-foot Response Boat-Smalls, also known as Response Boat-Small IIs, were constructed by Louisiana boatbuilder Metal Shark Aluminum Boats and delivered to the Coast Guard's 17th District starting in May.
Station Ketchikan received two new boats May 17, Station Valdez received one June 19 and Station Juneau received two June 27.
"We are very excited about acquiring these new boats, and the improved capabilities they offer," said Chief Warrant Officer Seth Carter, Station and Small Boat Manager for the 17th District in Juneau. "Our crews will use these new boats to provide enhanced support to the Alaskan communities they serve."
The new boats provide high-speed, easily deployable platforms needed to execute a full range of Coast Guard missions close to shore. Crews will operate these boats in coastal waters to handle missions including search and rescue, law enforcement, ports, waterways and coastal security, drug and migrant interdiction and environmental protection and response. The new boats were designed with an increased emphasis on ergonomics and crew comfort.
The Coast Guard contracted Metal Shark in September 2011 to replace the 25-foot Response Boat-Small Defender Class platforms, and initial deliveries began in June 2012.
Aug 27, 2018