Vard Bags CCG Concept Exploration Gig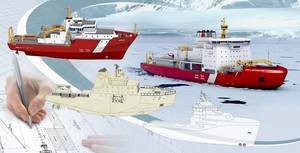 The naval architecture and marine engineering company, Vard Marine announced that it has been awarded an engineering services contract for concept exploration with the Canadian Coast Guard (CCG).

The contract will focus on the Coast Guard's future fleet renewal program, said a press release from the provider of ship design, marine engineering, and solutions for offshore and specialized vessels such as offshore support, subsea construction and naval vessels as well as ferries and passenger vessels.

The work scope is aligned with Vard Marine's core competencies in tailored, fit for purpose, multi-mission ship design and includes parametric concept design, feasibility studies and operational analysis, system design studies, trade-off analysis, and cost modelling.

The work is intended to explore requirements for multiple future fleet ship types and could stretch over several years, it said.

The contract continues a long positive relationship between Canadian Coast Guard and Vard Marine, beginning with Vard Marine designed patrol and science vessels built in the mid 1980's and carrying on with the development of the designs for the Offshore Oceanographic Science Vessel and the Polar Icebreaker.

"Vard Marine looks forward to working with Canadian Coast Guard on this program," said the release.


May 10, 2019