Container Service Returns to Port of Portland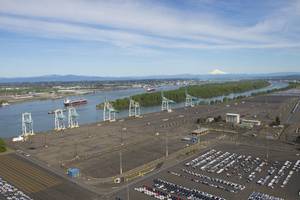 Hong-Kong based carrier Swire Shipping will offer general, non-containerized cargo and container service at Oregon's sole international port from January 2018.

A new call at Port of Portland's Terminal 6, which will likely be monthly and includes export shipments of Western Star trucks to Australia, export containers to Australia / New Zealand and import containers from Asia, is seen as a first step toward restoring container traffic that was driven out in part due to labor problems in recent years.

The announcement, made by Oregon Governor Kate Brown, the Port of Portland and Business Oregon, and follows a recent trade mission to Hong Kong, where the Governor joined port representatives to meet with Swire corporate executives.

"Strong trading partnerships and access to global markets allow Oregon businesses to grow, helping to sustain a thriving statewide economy," Governor Brown said. "Not only will new container service bring jobs for Oregonians, it also gives more options to Oregon companies as we work to maximize Terminal 6."

The new shipping option builds on Governor Brown's and the port's recruitment of air cargo service offered by Cathay Pacific at Portland International Airport (both partially or wholly owned by the Swire Group), and expands regional shippers' access to the global marketplace.

"The port is focused on giving our local shippers a variety of options to move their goods efficiently," said Curtis Robinhold, Port of Portland executive director. "Most importantly, this signals that T-6 is open for business."
Nov 13, 2017