MSC Cruises Plans New Terminal at PortMiami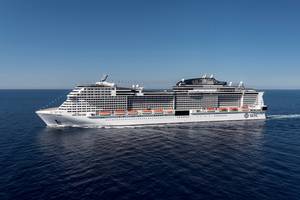 MSC Cruises is eyeing further growth in the North American with a new expansion project in Miami, the cruise line's exclusive homeport in the U.S. The company announced it has signed an agreement for extended preferential berthing rights as well as of a Memorandum of Understanding (MOU) for the construction of a new Cruise Terminal AAA at PortMiami.
"The new agreement and expanded partnership with PortMiami and Miami-Dade County is another key step forward in the business growth of MSC Cruises, as we continue to strengthen our global footprint, with a strategic focus on North America," said Pierfrancesco Vago, Executive Chairman of MSC Cruises.
The new terminal - which is projected to be completed by October 2022 - will be able to accommodate MSC Cruises' next-generation, still under construction MSC World Class cruise ships carrying up to 7,000 guests.
In addition, the agreement extends MSC Cruises' existing Saturday preferential berthing rights also to Sundays.
Currently the MSC Seaside, which debuted in late 2017, sails year around from Miami to the Caribbean from the recently completed Terminal F. MSC Divina also sails seasonally to the Caribbean from October through March, and MSC Armonia will join MSC Cruises' North American-based fleet beginning year-round cruises to Havana, Cuba in December 2018. As of November 2019, MSC Meraviglia, the company's largest ship at 171,598 GRT with the capacity to carry 5,714 cruise guests (4,488 at double occupancy), will join the other three ships at PortMiami.
"PortMiami is committed to providing a world-class experience to its guests and thanks to a long-standing collaborative relationship with Miami-Dade County we are thrilled that in less than 18 months MSC Cruises will have four ships sailing from the port," said Rick Sasso, Chairman of MSC Cruises USA. "This will also allow us to make a significant additional contribution to the economy of Miami and the county in its role as the capital of the cruise world, especially thanks to the large percentage of international guests traveling to Miami and South Florida to embark and disembark from MSC Cruises ships calling PortMiami."
"In 2017, MSC Cruises worked with PortMiami on the completion of Terminal F, home to MSC Seaside, the first MSC Cruises ship to be built specifically for North American market and the Caribbean," said Roberto Fusaro, President of MSC Cruises USA. "The construction of another cruise terminal is further testament of our commitment to U.S. travel partners and their guests, as it will allow us to continue to enhance our service, starting right from embarkation."
"Investing in PortMiami's infrastructure positions Miami-Dade County as a global destination for visitors," said Miami-Dade County Mayor Carlos A. Gimenez. "The construction of a new cruise terminal AAA with the capacity to berth an additional 7,000-passenger cruise ship represents thousands of jobs and increased opportunities for our community."
Chairwoman of the Miami-Dade County Economic Development and Tourism Committee Rebeca Sosa, said, "MSC's continued partnership is a big win for the growth and expansion of tourism in Miami-Dade County."
Jul 12, 2018