Cutting Edge Tech Helps Find Lake Huron Shipwrecks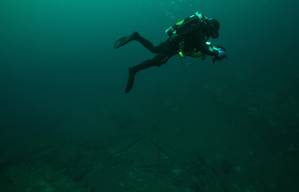 Researchers at NOAA's Thunder Bay National Marine Sanctuary have recently completed a four-phase research project to test the application of technology to locate, document and explore shipwrecks lost in Lake Huron. Under a grant from NOAA's Office of Ocean Exploration and Research, Thunder Bay National Marine Sanctuary assembled an interdisciplinary team of researchers from around the country to support an expedition based from the sanctuary's Great Lakes Maritime Heritage Center in Alpena, Mich.
Thunder Bay's superintendent, Jeff Gray, summarized the importance of this project by stating that, "though the area of Lake Huron in which the sanctuary exists has been mapped for the purposes of nautical charting, it has not been entirely mapped to a degree of detail needed to know where all historical shipwrecks are located."
Currently, 93 shipwreck sites are known, but historical records indicate as many as another 100 are yet to be found. According to Gray, of the sanctuary's 4,300 square mile area, only about 600 square miles have been systematically surveyed while looking for shipwrecks.
John Bright, sanctuary research coordinator, remarked that "underwater survey is a complicated endeavor. Within the sanctuary, there exists a range of underwater environments from shallow water reefs to very deep, offshore areas. Each area requires different tools and approaches to explore and document the lake bottom." As a result, Bright noted, "the ability to use partnerships with other government agencies, university researchers and industry representatives brings the types of technological tools and experts necessary to get the job done."
During the first phase of the project, completed in April, partners at NOAA's Remote Sensing Division (RSD), California-based non-profit Oceans Unmanned and Texas-based company Trumbull Unmanned supplied unmanned aerial systems (UAS) and pilots to fly survey missions over Lake Huron. These missions focused on shallow water areas; areas where larger research vessels dare not travel. Within these shallow stretches, however, numerous ships met their end. Since driving a boat through shallow water is not safe, the team came up with a creative solution: launch camera-equipped UAS systems from land to survey these areas.
Due to the exceptional water clarity of Lake Huron, aerial surveys over shallow water provided a remarkable perspective of the lake's floor. Researchers recorded detailed features including the remains of historical shipwrecks. Matt Pickett, a pilot with NOAA's Remote Sensing Division remarked that sanctuaries are like "living laboratories" for testing how UAS systems can be used for a wide array of research and documentation tasks. Brian Taggart, a pilot with Oceans Unmanned, noted that "the private/public partnerships," such as that with Thunder Bay National Marine Sanctuary, "help researchers keep up with technology that develops and changes at a very fast pace."
In the second phase of the project, the sanctuary teamed up with the University of Delaware onboard research vessel R/V Laurentian. For six days, they conducted around-the-clock acoustic mapping of the lake floor, scanning 100-square miles in the heart of the sanctuary. The result of these scans is a huge archive of data that the team must process, review and use to pinpoint the locations of potential shipwreck discoveries.
Afterwards, the project's chief scientist, Dr. Guy Meadows of Michigan Technological University's Great Lakes Research Center, arrived to lead the project's third phase. Thunder Bay's John Bright says "there is always a trade-off with marine remote sensing. These tools capture either a wide area at lower resolution or a narrow area at higher resolution. Seldom can they do both." The consequence, Bright noted is that "in order to scan larger areas efficiently, you have to use survey tools with a wider field of view but lower resolution image quality. When an item of interest is seen, there is usually not sufficient detail to actually know what it is; additional investigation is needed."
Phase three of the project used an autonomous underwater vehicle (AUV) to conduct this targeted, high-resolution imaging of targets located during the previous survey effort with the University of Delaware. The AUV has numerous, interchangeable scanning systems. As a result, it captured several types of sonar data used to produce 3D models. Each shipwreck sites takes several hours to image, limiting the team to scanning one shipwreck per day. Departing from Presque Isle State Harbor onboard NOAA's R/V Storm, Dr. Meadows and the team traveled several miles to various shipwreck sites. Using specialized software, a flight plan was pre-programmed into the AUV's computer. It was then lowered into the water, and left to fly this mission over the course of several hours.
Upon completion of its mission, the vehicle returned to the surface where the crew retrieved it and downloaded the data. Next, technicians processed the data and rendered the various visual products. Thunder Bay's maritime archaeologists then evaluated the scans to derive information about a shipwreck's size, features and overall integrity.
During the final phase of the project, dive teams from Thunder Bay and Monitor National Marine Sanctuary, with support from East Carolina University, investigated shipwrecks documented with the AUV. At each site, the divers collected hundreds of still photographs and produced 3D digital models via a process known as photogrammetry. In a matter of 20-30 minutes, explains Bright, "divers can capture the overall structure of an underwater archaeological site, a process that used to require hours of hand mapping." While detailed mapping is still an essential part of documenting archaeological sites, Bright notes, "3D photogrammetry offers us a rapid assessment tool that virtually did not exist a few years ago."
Sanctuary archaeologists will now compare the acoustic-based 3D models from the AUV scan with those produced by photogrammetry. The goal is to determine the optimal method to conduct baseline documentation of newly discovered sites. "With as many as 100 new shipwrecks yet to find in sanctuary waters," Bright notes, "we will repeatedly apply the lessons learned from this expedition." The most critical aspect of implementing advanced technology says Bright, "is the partnerships bringing researchers together to leverage their tools, expertise and knowledge."
Aug 10, 2017