Damen Signs with Repair Deal Dutch MoD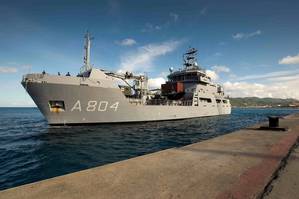 On July 11, 2019, Damen Shipyards Den Helder signed a midlife upkeep (MLU) contract with the Netherlands Ministry of Defense. With this contract, support ship HNLMS Pelikaan, along with hydrographic survey vessels HNLMS Snellius and HNLMS Luymes, all of the Royal Netherlands Navy, are heading to Damen Shipyards Den Helder for an maintenance and modernization.

The scope of work that the Damen yard will perform will include equipping the vessels with new hull plating, renewal of radars and communications equipment and maintenance the ship's systems, along with regular maintenance.
HNLMS Pelikaan is the logistic support ship of the Royal Netherlands Navy in the Caribbean. She is used for transportation and emergency assistance, playing a role, for example, after Hurricane Irma in 2017. This will be the first time the vessel returns to the Netherlands since her commissioning in 2006.



Jul 11, 2019