Damen Snags Ferry Order from B.C. Ferries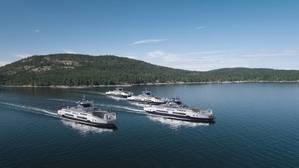 Damen Shipyards Group has won a repeat order from B.C. Ferries for four additional Damen Road Ferries 8117 E3, also known as the "Island Class vessels". The diesel-electric hybrid ferries follow two such vessels that the client ordered from Damen in 2017. The four new vessels will provide inter-island ferry services between Vancouver and Vancouver Island.
"The fact that Damen had designed the original two island class ferries for BC Ferries, positioned us well to start building very quickly," said Leo Postma, Sales Manager, Damen. "Also, having very nearly completed the construction of the first order at the time of the award of contract, we had personnel ready and experienced in the building of this type of ferry."

BC Ferries is standardizing its fleet, and Damen specializes in the standardization of ships.

The Damen Road Ferry 8117 E3 is 81 m long, able to carry 300 passengers and crew as well as a minimum of 47 cars. The vessels' hybrid fuel arrangement assists BC Ferries in its goal of improving environmental performance and, with the plan of evolving to full electric in the future, reduced operations costs.

The first two vessels are being transported aboard a semi-submersible heavy-lift vessel from Damen Shipyards Galati in Romania and are due to arrive in Canada end December.



Nov 11, 2019