Damen Starts on Dredging System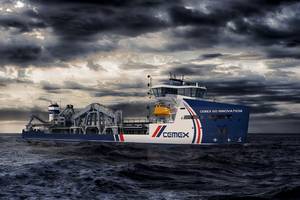 Damen began work on the construction of a dredging system for the first Marine Aggregate Dredger (MAD).
This vessel, which is being built at Damen Shipyards Galati in Romania for Cemex UK Marine Ltd., is designed to extract sand and gravel from the sea bed at depths of up to -55 meters.

According to the builder CEMEX asked Damen to develop a system with no inboard dredge pipework, something which has never been done on a vessel of this size before. The thinking behind this was to avoid the possibility of the abrasive dredged material creating wear holes in the inboard dredge pipework on board making it a safer and easier maintenance-friendly system.

"This initial design from Damen Dredging Equipment, considerably reduces the risk of flooding. It has implications way beyond the obvious improvements in safety, not only for the crew on board but also for the maintenance staff, as there will be a reduced requirement for expensive wear parts as well as fast, practical replacement," says Mark Williams, CEMEX UK Fleet Engineering Manager.

Reduced maintenance is a common theme to be found throughout the dredging system design, explains Frank de Hoogh, DDE Design and Proposal Engineer.

"The modular nature of the dredging system takes care of this. Where maintenance was previously a significant undertaking, it can now be conducted with just the on-board service crane, significantly lowering maintenance requirements and increasing uptime."



Jul 12, 2018