TOTE Delays Midnight Sun's LNG Conversion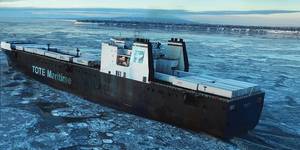 TOTE Maritime Alaska has adjusted its liquefied natural gas (LNG) conversion schedule, pushing back works on its RoRo vessel Midnight Sun by one year in order to align with the most recent timeline for Tacoma's LNG-plant completion.
Under the new schedule, Midnight Sun, which was originally scheduled to undergo phase 1 of the LNG conversion from mid-December 2018 through early-February 2019, will wait until 2019-2020 for the work to be performed.
The new conversion schedule is as follows:
Midnight Sun Phase 1: 2019-2020
North Star Phase 2: 2020-2021
Midnight Sun Phase 2: 2021-2022
TOTE emphasized it is fully committed to convert the Orca class vessels to LNG, and said it will continue sailing the vessels throughout the year with the exception of routine holiday single-sailings.
In place of this year's dry dock period, TOTE will continue preparing Midnight Sun's transition to LNG for items that don't require a dry-dock.
May 11, 2018