MAN to Deliver Propulsion for Pasha's LNG Containerships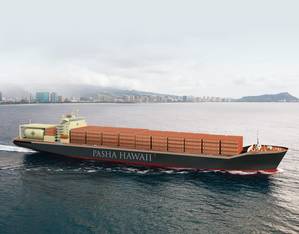 MAN Energy Solutions said it has won an order to provide the propulsion systems for two new liquefied natural gas (LNG) fueled containership newbuildings, which will join the fleet of Pasha Hawaii, the U.S. Jones Act carrier in the Hawaii trade lane.
Each system will comprise a 7S80ME-GI Mk 9.5 main engine, three MAN 6L35/44DF GenSets and an MAN Alpha FPP propeller system. The 2,525-teu vessels will be constructed at the Keppel AmFELS yard in Brownsville, Texas to Keppel's proprietary design.
Bjarne Foldager - Vice President, Sales & Promotion, Two-Stroke Business at MAN Diesel & Turbo - said, "With some 200 engines on order or already in service, the ME-GI's popularity continues to grow. This is yet another order within the container segment and cements the ME-GI concept. More so, the project at hand shows how our customers pick up on offers of complete propulsion systems beyond just the main engine. This confirms our strategic path to develop into a system provider."
Doosan Engine will build the main engines in Korea, which will meet Tier III emission standards by use of an Exhaust Gas Recirculation system. Similarly, MAN Diesel & Turbo's Augsburg works will build the auxiliary engines which will meet Tier III with the aid of a Selective Catalytic Reduction system. Engine delivery is scheduled for 2019 with the two vessels, respectively, due for launch in Q1 and Q3 of 2020.
Domestic ocean carrier Pasha Hawaii is an independent operating subsidiary of The Pasha Group based in Honolulu, Hawaii and provides shipping services between Hawaii and the U.S. mainland. The company reports that the new vessels joining its fleet will have a sailing speed of 23 knots and that the ships' hulls have been fully optimized using computational fluid dynamics to be among the most hydrodynamically efficient in the world.
The new vessels will operate fully on LNG from day one in service, reducing environmental impact and increasing fuel efficiency. The engine, together with an optimized hull form and an underwater propulsion system with a high-efficiency rudder and propeller, will generate further energy savings.
According to MAN, when compared to conventional fuels, LNG is a cleaner alternative fuel for shipping and offers significant environmental benefits, including the reduction of up to 95 percent in sulphur oxides, nearly 100 percent of all particulate matter, up to 90 percent of nitrogen oxides, and up to 25 percent of carbon dioxide emissions from engine exhausts.
Jul 10, 2018