New ASV Delivered for Post-hurricane Surveying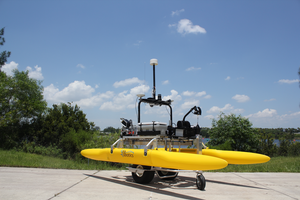 A new autonomous surface vehicle (ASV) has been delivered to the U.S. Army Corp of Engineers for rapid post-hurricane hydrographic surveys in the Caribbean.
After a severe climatic event, such as a hurricane, hazards to navigation impede the rapid delivery of aide as well as access to critical infrastructure through ports and harbors. Use of the SeaRobotics Corporation's 3.6-meter, collapsible ASV will allow rapid deployment and completion of the hydrographic surveys necessary to reopen infrastructure enabling delivery of life saving goods and services.
"SeaRobotics is pleased to participate in improved disaster recovery efforts implemented by the USACE. As a Florida company, we are directly impacted by the need for rapid hurricane response and thrilled to be involved in the solution," stated Don Darling, president of SeaRobotics Corporation.
The 3.6-meter ASV utilizes collapsible hulls, allowing transport in compact protective crates so the system can be airfreighted for rapid deployment. The system assembles from crates to deployment in less than 30 minutes. Working in partnership with Echo 81, the ASV integrates hydrographic survey payload, including an Edgetch 6205 sidescan/bathy multibeam echo-sounder (MBES), R2 Sonic 2022 MBES, Applanix WaveMaster POS MV inertial navigation system (INS), a SeaRobotics' cast winch and a castable AML BaseX² sound velocity probe (SVP). The two multibeam systems were chosen to provide exceptional data quality in multiple marine environments, aiding in the rapid assessment of navigation hazards. The lightweight SeaRobotics' cast winch deploys the SVP used to generate corrective sound velocity profiles by the onboard data acquisition computer.
"The rapid deployment and ease of assembly of the ASV, as well as the capability to launch the ASV from non-traditional locations will expedite the availability of crucial hydrographic survey results," explained Geoff Douglass, ASV development manager at SeaRobotics.
In addition to the hydrographic survey payload, the ASV includes excellent situational awareness and enunciation aides. An automatic identification system (Class B AIS) is used to identify and track other vessels in the area and to enunciate the position of the ASV. Other aides include a real-time viewable PTZ video camera, navigation lights, an autonomous and remotely operated horn, a LIDAR based obstacle detection system, and streamlined data acquisition line planning and post processing interface system utilizing a SeaRobotics' specific ASV driver for HYPACK Survey and HYSWEEP.
These systems leverage SeaRobotics' extensive expertise and history delivering ASVs for high-precision bathymetric surveys, water quality analysis, hydrographic surveys, shallow water, force multiplier and many other applications. The ASV was delivered with a fully integrated Edgetech 6205 multi-beam echo sounder (MBES), R2Sonic 2022 with Type II I2NS motion reference unit and dual antenna GPS system, as well as a surface sound velocity probe and a cast winch deploying a CTD-all tightly integrated with HYPACK software.
Sep 6, 2018