WE Tech Delivers Hybrid Propulsion Solution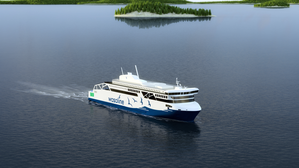 WE Tech Solutions Oy (WE Tech) has been awarded the contract for delivery of an avant-garde Hybrid Electric Propulsion solution to Rauma Marine Construction Oy (RMC).
The solution includes Propulsion drives, Energy Storage System (battery banks and DCDC converters), Main Propulsion Switchboards, Shore connection switchgears, Energy Management System and the Propulsion Control System. WE Tech and RMC will together bring Wasaline's new RoPax ferry to the next level of sustainable shipping. The new ferry is being built by RMC in Rauma Finland and is scheduled for delivery in May 2021. The Ice Class 1A Super ferry, with a freight capacity of 1,500 lane-meters for trucks on two cargo decks and capacity for 800 passengers, will be operating daily in the Gulf of Bothnia between the city of Vaasa in Finland and city of Umeå in Sweden.The Hybrid Electric Propulsion ferry will be equipped with four generators that supplies energy for propulsion and electrical power demand in normal sailing mode. A Zero Emission Sailing Mode utilizes battery banks only for vessel's propulsion and electrical power demand and is initiated in harbor maneuvering mode. While stationary in the harbor, the vessel's electrical system and re-charging of the energy storage system will be supplied by the high-power shore connection.
The Energy Storage System (ESS) which is connected to the common DC-link of the main propulsion drives provides power for peak-shaving and back-up functionality, and as a single supply when in Zero Emission Sailing Mode. WE Tech delivers the dedicated power and energy management system (DPMS) to control the energy flow and different operation modes as well as interface with the vessel's automation system. Also, as the vessel's bow thrusters are fed via dedicated inverters connected to the common DC-link, it can be said that the Hybrid Electric Propulsion solution by WE Tech truly is the heart of the vessel. This versatile and flexible solution will save tons of fuel and reduce emissions both at sea and in the harbor.
The call for lower emissions affecting the merchant marine is growing louder day by day. WE Tech's ambitious vision is that the global shipping industry should use 30 per cent less fuel by 2030. The cooperation with Wasaline will enable the company to further develop its innovative technologies and to achieve that goal easier.
May 28, 2019