SMD Delivers Atom Mk1 ROV Systems to JFD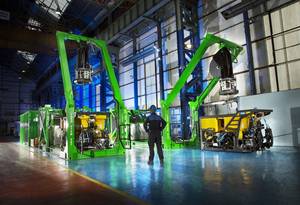 Subsea design and manufacturing specialist Soil Machine Dynamics Ltd (SMD) has delivered two 1,000-meter Atom Mk1 work class remotely operated vehicle (ROV) systems to JFD Ltd, an underwater capability provider serving the commercial and defense markets.
The Atom systems, both equipped with ultra-compact launch and recovery systems (LARS) and SMD purpose-designed control and workshop cabins, provide a complete turnkey solution, which is essential for JFD in providing their customer, the Indian Navy, with reliable equipment for time critical missions.
Optimized for submarine rescue operations, each Atom system carries three emergency life support pods for delivery to a submarine forming the intervention element of JFD's third generation submarine rescue system. For this order, JFD took advantage of the Atom's ability to carry a large payload within a compact vehicle frame.
Ben Sharples, India project director at JFD, said, "SMD Atom ROVs play a crucial role in our new third generation submarine rescue systems, and in advancing our ultimate aim of reducing response times to first intervention, protecting life at sea, and improving the standards of safety for submariners around the world."
The SMD Atom is an ultra-compact work class ROV comparable in size to an electric ROV system. Designed with ease of operation and maintenance in mind, the Atom boasts the latest DVECSII distributed control technology, graphical displays and pilot aids coupled with proven powerful Curvetech components, which were recently proven to have operational reliability at depths of up to 6,000 meters.
The small size and lightweight design of Atom was an important factor for JFD in the selection process as the entire system must be air transportable for rapid response. During factory acceptance, SMD was able to demonstrate Atom's thrust capability to JFD representatives at its facility in North Shields, Newcastle, using its 64-cubic-meter in-house test tank.
Mark Collins, SMD managing director for ROV systems, explained, "This has been a significant project for SMD which has seen us deliver two submarine rescue specification Atom ROV systems to a high-profile client in the defense sector. Significantly it shows that SMD can provide optimized work class ROV power and capability in a very small package that is light enough for air transportation and fast deployment.
"Ease of use and reliability were also key requirements which we were able to deliver through our long and successful track record operating in a diverse range of sectors. We look forward to continuing this new partnership with JFD and supporting their current and future needs in the defense underwater arena."
Mar 13, 2018