Four New Expedition Cruise Vessels Ordered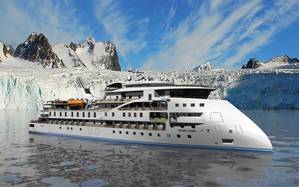 SunStone Ships, Inc. and China Merchants Industry Holdings Co., Ltd. (CMIH) have signed a framework agreement for the construction of four expedition vessels with options for an additional six vessels.
The new vessels will be part of the SunStone Fleet and chartered to new and existing clients.
CMIH has entered into an agreement with Ulstein Design & Solutions, who will supply the vessel's design and equipment package, as well as the supervision for the building of the vessels.
CMIH has also entered into an agreement with Finland's Mäkinen, who will establish a cabin assembly plant and interior workshop at the shipyard's facilities in China and will be responsible for all interior spaces on the new builds.
The hotel design of our new fleet will be done by Tomas Tillberg Design International.
The project was brought together by Tillberg & Reyes Group Co. Ltd., who acted as broker. Carlos Reyes and Andrew Zhang developed the commercial and financial models as well as the communications and relationship with everyone involved.
Passenger cabins: 80 - 95
Length: 104m
Width: 18.2m
Draft: 5.1m
Speed: 15-knots
Class: Ice Classed 1A
Polar Code: PC 6
Classification Society: Bureau Veritas
Flag: Bahamas
Mar 20, 2017