A Jet Fighter for the Sea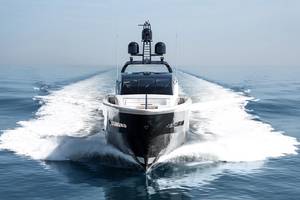 After last week's look at a classic yacht, I turn my attention this week to the other end of the spectrum with a yacht whose impressive exterior is inspired by a fighter jet. Heesen's 51m Irisha makes its debut at next month's Monaco Yacht Show 2018
The semi-displacement fully-custom motor yacht was driven by the owner's brief that specified an aggressive and dynamic yacht, and renowned British designers, Harrison Eidsgaard have certainly brought that desire to life in spectacular fashion. Its sporty raised wheelhouse is constructed of 3D curved glass sheets, which are among the largest produced in Europe. Her top is Snow White in color, while the main deck is a Midnight Blue, the hull features a custom metallic color Pacific Blue which in sunlight changes from metallic blue to dark olive-green hues.
Family and entertaining are at the center of this yacht, and one of her many remarkable design features, the sky lounge is equipped with a cinema screen and projector for film nights and served by a wet bar for the ideal socializing hub. The main deck is characterized by an indoor-outdoor winter garden, with sliding glass doors and features a living area with a generous dining table, seating 14 with an extension to accommodate for 22 guests.
The interior decoration is primarily wood, soft textiles and textured fabrics result in a cozy and inviting atmosphere. A hand-felted silk bedhead characterizes the Owner's stateroom by Dutch artist, Claudy Jongstra, which adorns the headrest and adjacent to the bed is a private French balcony with sliding glass doors.
Irisha can also accommodate eight guests on the lower deck in two double suites and two twins, with the option of converting the twins into doubles or into a VIP with seating area thanks to a sliding partition.
If that has piqued your interest, then Irisha is available for charter in the South of France, Monaco, and Corsica with SuperYachtsMonaco, but it will leave you $350,000 poorer for a week of luxury yachting. Just a bit out of my price range
Aug 23, 2018