Fincantieri to Delist Vard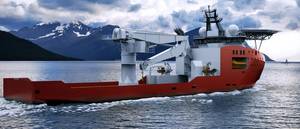 Italian shipbuilder Fincantieri has proposed to seek the privatization of Vard Holdings via a voluntary delisting from the Singapore Exchange Securities Trading Limited (SGX-ST).
Fincantieri, which holds a 79.34 per cent stake in Vard through a subsidiary Fincantieri Oil & Gas, is now offering 25 Singapore cent per for every share it does not own, one cent more than its previous offer, which closed in January.
"Under the Exit Offer, Fincantieri O&G will offer the shareholders of Vard SGD 0.25 in cash for each Vard share tendered in acceptance of the Exit Offer, for a maximum consideration of SGD 60,943,572.50 (approx. EUR 38,500,000 at the current exchange rate) in case of full acceptance. The Offer will be financed through available financial resources," said a stock exchange anoucemnet from the company.
The delisting needs to be approved by the Singapore Exchange as well as the majority of at least 75 percent Vard shareholders. Also, the delisting will not pass if ten percent of shareholders vote against.
Vard, a company listed on the Main Board of the SGX-ST, is one of the largest global shipbuilders of offshore and specialized vessels, with about 9,000 employees and nine shipyards in Norway, Romania, Brazil and Vietnam.
Fincantieri O&G currently holds 936,225,710 shares in Vard, equal to around 79.34 per cent. of Vard's total issued share capital. The consolidated financial statements of the Fincantieri group has included Vard's contributions since Fincantieri O&G's 2013 acquisition of a majority stake in Vard.
The transaction does not impact the forecasts and the quantitative targets previously published by Fincantieri, said the company.
Nov 13, 2017