Finnish Firms Present Oil Recovery Project Results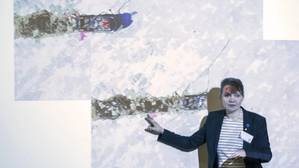 A recent seminar held March 7 and 8 in Porvoo, Finland, saw Finnish companies Arctia and Lamor Corporation present the results of the IMOR (Ice Management & Oil Recovery) project, which seeks to enhance oil recovery in ice conditions.
The oil recovery seminar, arranged by icebreaking services provider Arctia in collaboration with oil spill response specialist Lamor, was opened by the company's respective CEOs, Tero Vauraste and Fred Larsen.
In his speech, Vauraste stated that oil recovery is a key part of Arctia's range of services. Arctia will continue its collaboration with authorities and other partners at regional, national and international level regarding the development of oil recovery and other preparedness measures related to maritime safety. Vauraste reminded the audience that the Finnish chairmanships in the Arctic Council, the Arctic Economic Council and the Arctic Coast Guard Forum, scheduled to begin in May, will provide opportunities for exactly this kind of development and for the forging of increasingly close collaboration between states and service providers.
Around 30 people participated in the seminar, including official invitees from Canada, Russia and France.
Arctia said the trials performed for the IMOR project visualized the flow of ice and water by means of measurements and marker substances. Based on an understanding of flow dynamics, the machinery and propellers of an oil-recovery vessel can be operated in a manner that enables the more effective redirection of oil toward oil recovery equipment. In 2016, Arctia and Lamor conducted such trials with the aid of the harbor icebreaker Ahto, both when the vessel was moving and while it was at a standstill in the middle of an ice field.
A video of Arctia's icebreaker Ahto during the February 2016 IMOR trials in the Bay of Bothnia is available
here
.
Mar 17, 2017