First Hybrid Fish Farm Boat On the Water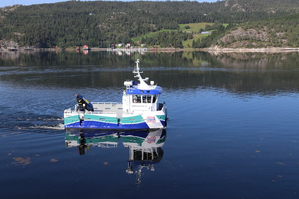 Danfoss Editron has delivered two 105kW motors that will help power Edel, the first hybrid vessel built for the aquaculture sector by Norwegian shipyard Moen Marin. Edel is also the first diesel-electric vessel in the fleet of NRS Farming, Norway's leading producer of sustainable salmon.

The 13.5 by 7.5m vessel will become part of NRS Farming's fleet and be used for sustainable fishing in salmon farms located in Norway's fjords. As it has an operating pattern of predominantly short trips, NRS Farming plans to run Edel mainly on battery power. However, the boat will operate in diesel-electric mode on longer journeys, with the battery pack charged by the diesel generator.
Danfoss Editron's motors operate on synchronous reluctance assisted permanent magnet (SRPM) technology, are liquid-cooled and designed to work in harsh operating environments such as the marine sector. As well as the motors, Edel also features 10 sets of lithium-ion batteries with a total capacity of 244kWh, two electric capstans, a 139kW generator, a 50hp thruster and a fully-rotating deck crane.
Ole Duus, Sales Area Manager for Danfoss Editron, said: "Compared to conventional technologies, such as induction machines or standard permanent magnet motors, our electric SRPM motors are smaller, lighter in weight and offer higher efficiencies. These are key factors as to why more and more customers in the marine sector are choosing to work with us to electrify their ships."
Sep 5, 2019