DFDS Buys Two Freight Ferries for New Route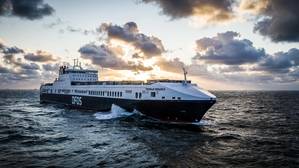 Danish roro ship operator DFDS secured a contract from Swedish paper producer Stora Enso to transport 700,000 tons of paper annually on a new route between Gothenburg, Sweden and Zeebrugge,Belgium

DFDS will acquire two freight ferries for the route, said the release. The new route will be operated by three freight ferries. Two freight ferries - Slingeborg and Schieborg - will be acquired from third party owners for DKK 270m.

In addition, one freight ferry will be transferred from DFDS' existing route between Gothenburg and Ghent that currently deploys four freight ferries. The significant increase in departure frequency between Sweden and Belgium will enhance customer services and support the growth of our customers.

The route is expected to begin operating mid June, 2019 and reach revenue in excess of DKK 300m in 2020.

The contract runs for a minimum of five years. Stora Enso has the option to extend the agreement with three year.

"We are very pleased to expand our cooperation with Stora Enso and look forward to supporting their growth through an efficient and flexible route operation. We likewise look forward to offer the transport market additional capacity and services between Sweden and Belgium", says Peder Gellert Pedersen, Executive Vice President, DFDS Group, and Head of Ferry Division.

Stora Enso is a leading global provider of renewable solutions in packaging, biomaterials, wooden constructions and paper.


May 10, 2019