Gastro Outbreak on Ovation of the Seas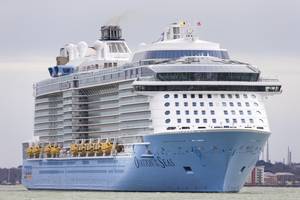 A gastro outbreak has affected nearly 200 passengers aboard one of the world's largest cruise ships, Ovation of the Seas.
The 168,666 GT cruise liner docked in Hobart on December 5 following a 14-night cruise from Singapore. Over the two weeks, 195 cases of gastro-intestinal illness were reported, the ship's owner Royal Caribbean said in a statement. There are 5,824 people on board, including guests and crew.
"Those affected by the short-lived illness were treated by our ship's doctors with over-the-counter medication," Royal Caribbean said.
"We're taking steps like intensive sanitary procedures to minimize the risk of any further issues. Upon arrival into port in Sydney, the ship and terminal will be comprehensively sanitized and cleansed to help prevent the spread of illness, resulting in a delay to boarding for new guests. In addition, crew have undertaken enhanced cleaning practices throughout the cruise, including significantly increasing the already regular sanitization of hand touch surfaces such as door handles, railings and elevator buttons."
Tasmania's Director of Public Health, Dr. Mark Veitch, said local health authorities are working cooperatively with the vessel and that the cruise ship notified authorities of the outbreak prior to docking in Hobart.
"It is not uncommon for ships that carry large numbers of passengers and crew - in this case more than 5,000 - to experience a level of illness very similar to that of the normal population," Dr. Veitch said. "Outbreaks of highly infectious conditions such as gastro and respiratory illness can also occur in cruise ships, where a population the size of a medium-sized town mixes closely together."
Dr. Veitch said five passengers received treatment at the Royal Hobart Hospital.
"The ship informed us that a small number of passengers who were likely to require transfer to hospital for medical conditions not necessarily linked to gastroenteritis," Dr. Veitch said. "Again, it is common for cruise ships to request additional medical assistance for more seriously ill passengers."
Built by Meyer Werft and
delivered
in 2016, Ovation of the Seas is the third vessel in Royal Caribbean's Quantum Class.
Dec 5, 2017