Gazpromneft Marine Bunker in Pact with Cruise Lines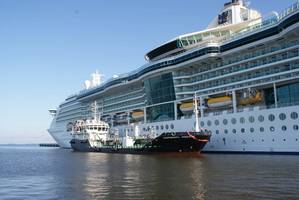 The Gazprom Neft bunkering business Gazpromneft Marine Bunker has concluded new agreements with cruise operators Royal Caribbean International and Saga Cruises.

Gazpromneft Marine Bunker will be managing approximately 60 bunkering operations for Royal Caribbean and Saga cruise liners during the summer navigation season (May-September 2019) at St Petersburg's Marine Façade passenger port.

Total sales of marine fuels under these contracts are expected to be in the order of 55,000 tonnes.

Passenger cruise liners will be supplied with marine and hybrid oil products with sulphur content of less than 0.1 percent, produced at Gazprom Neft's Moscow and Omsk Refineries.

These highly environmentally friendly marine fuels are designed for use in SECA emission control zones, and are fully compliant with new requirements under the international MARPOL Convention.

Andrei Vasiliev, CEO, Gazpromneft Marine Bunker, said: "St Petersburg is a popular tourist destination: 620,000 tourists visited the Northern Capital on cruise liners in 2018 alone. The trend in increasing passenger traffic shows the number of cruise liners visiting St Petersburg every year is only going to grow. Terminal infrastructure and our own bunkering fleet mean Gazpromneft Marine Bunker can meet maritime companies' growing demand for high-technology oil products and offer a high-quality service at the Port of St Petersburg."

Gazpromneft Marine Bunker is a Gazprom Neft subsidiary, established in 2007 to provide year-round sales of marine fuels and lubricants for marine and river transport. The company is one of the most important oil-products suppliers in Russia's North-West Region, achieving sales of approximately 332,000 tonnes of marine fuels at the Sea Port of St Petersburg in 2018.


May 22, 2019