Next Generation AutoNaut USV Unveiled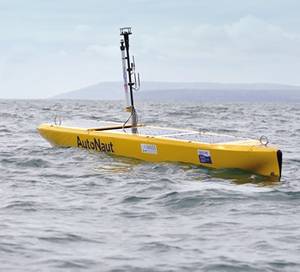 The new generation of 5-meter AutoNaut unmanned surface vehicle (USV) boasts several new and upgraded features.
The latest wave foil technology enables speeds of 1-3 knots to be consistently maintained, with no need for fuel and for long endurance missions. The vessel has been ruggedized throughout and features improvements in the deployment system - for launch/recovery from ship or direct from slipway.
An enhanced rudder system makes the USV even more maneuverable - able to keep station within a 25-meter radius. Finally, the 5-metre has additional space and power to allow for multiple sensor, including: MetOcean, ADCP, Passive Acoustic Monitoring, Surveillance and as a Communications Gateway.
Pete Bromley, Technical Manager at AutoNaut, said, "We've learned a lot from all the missions conducted in the last year or so and the growing team we have here have brought some great ideas to the development."
"The versatility of the 5-meter is key," said Phil Johnston, Business Development. "With so many options for the sensor payload it's a game-changer in terms of how we can provide solutions for clients, whether in oil and gas, defense or marine science."
See the new 5-meter AutoNaut USV on stand A251 at Oceanology International, ExCeL London, March 13-15, 2018.
Mar 14, 2018