BW Group, Mitsui Form FSRU Joint Venture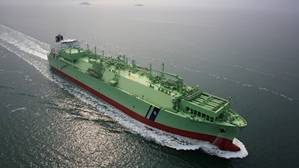 A joint venture agreement between Japan's Mitsui & Co. and Singapore's BW Group Limited will see Mitsui purchase a 49 percent share in the floating storage and regasification unit (FSRU) BW Integrity, while BW will maintain a 51 percent share.
The deal is expected to close as soon following payment for the acquisition.
BW Integrity is currently in Port Qasim on a 15-year charter to PGP Consortium Limited (PGPC), to provide LNG regasification services at Pakistan's second LNG import terminal. BW will continue to provide commercial and technical management services.
The FSRU project is BW's second; BW Integrity's sister vessel, BW Singapore, is currently based in Sumed, Egypt on a five-year charter.
For Mitsui, the joint venture signals its first FSRU project, as well as the first for a Japanese company to participate in Pakistan's LNG receiving infrastructure business. The company said it aims to increase its presence in the FSRU market by leveraging its experience and expertise in various areas across the gas chain.
Pakistan began importing LNG in 2015 to cater to growing domestic demand for natural gas, and declining production of indigenous gas. The demand for imported LNG in Pakistan is expected to grow steadily and reach 20 million tons per annum by 2022.
Mitsui & Co.'s Chief Operating Officer of the Integrated Transportation Systems Business Unit II, Takeshi Setozaki said: "Mitsui and BW have enjoyed a good relationship for many years in various shipping areas. The opportunity for us to enter the FSRU business is a very big step forward for our future business strategy. As a LNG receiving/regasification base project is an extension of the LNG shipping business area, it is important to acquire know-how of the FSRU business and to maintain effective relationships with partners like BW. I am convinced that this partnership will also greatly contribute to Mitsui &Co.'s gas sales strategy. I would like to continue to expand this business area firmly in the future."
BW Group's CEO, Carsten Mortensen, said, "BW and Mitsui have a long history of close cooperation in many business areas and having Mitsui as a JV partner is a special relationship on which we hope to build for many years to come. It is our privilege to have such a well-established name in the energy and maritime investment spheres take an interest in one of our vessels."
BW Integrity
Length: 292.5m
Width: 43.4m
Shipbuilder: Samsung Heavy Industries, Korea
LNG storage capacity: 170,582m3
Regasification capacity: 750 mmscf/d
Mooring System: Single Jetty mooring
Nov 14, 2017