High-Spec Engines for OSG ATB Barge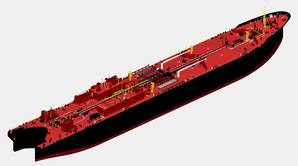 The newest articulated barge Gunderson Marine is building for Overseas Shipholding Group will be the first in the world to be dual certified as meeting EPA Tier 3 and IMO III emission standards.
The barge is reaching this monumental milestone because of the Volvo Penta engines Gunderson and Pacific Power Group recommended for auxiliary engines that power the cargo pumps and the ship's service generator sets.
The 575-foot-long barge will be flagged as a U.S. vessel and will operate in both U.S. and international waters, which requires the engines meet the stringent emission standards. The ATB tank barge will be powered by seven Volvo Penta D-13 Tier 3 engines that are being provided by Pacific Power Group. The engine packages include Volvo Penta's Selective Catalytic Reduction (SCR) exhaust aftertreatment system, which converts nitrogen oxides in the exhaust into a harmless mix of nitrogen and water.
The engines were delivered to Gunderson's shipyard in Portland, Oregon, in May. Construction on the barge is expected to be completed by spring 2020. The barge will feature three gensets and four cargo pumps.
"Our D13 auxiliary diesel package is a perfect solution for gensets and fuel pumps on articulated tank barge applications," said Jens Bering, vice president of marine sales for Volvo Penta of the Americas. "We are working closely with our valued Power Center partner Pacific Power Group to meet Gunderson Marine's requirements for reliable performance, fuel efficiency and regulatory compliance for operation in U.S. and international waters."
Gunderson is likely to start construction on a second barge for OSG in 2020, with the possibility of a third in the future.


Jun 12, 2019