Homeland Signs for Sixth Damen Patrol Vessel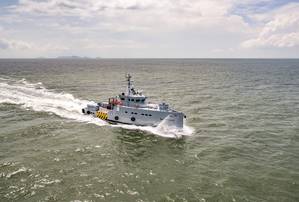 Nigerian-based Homeland Integrated Offshore Services has signed a contract with Damen Shipyards Group for another Damen 3307 Patrol Vessel. The vessel marks another collaboration between the companies, who have been in cooperation since Damen delivered Homeland's first 3307 Patrol Vessel in 2014.
The vessel named, Guardian 6, will join its sister vessels in the Gulf of Guinea providing security services to oil majors operating in the region. It will perform roles such as deterring and intervening in piracy attacks, as well as crew transfers and equipment deliveries. Homeland is approved and registered by the Government of Nigeria to provide private maritime security services.
The Damen 3307 Patrol Vessel, based on Damen's Fast Crew Suppler (FCS) 3307, benefits from the design's outstanding seakeeping behavior, rapid acceleration and high top speed, according to the Dutch shipbuilder. Fitted out as standard, the vessel can carry up to 16 military personnel along with their equipment.
Homeland has selected a number of optional custom features for their new vessel, including incorporation of a Fast Rescue Craft, Fuel Trax electronic fuel monitoring system and a self-cleaning fuel separator.
Homeland's CEO, Dr. Louis Ekere, said, "I'd like to thank Damen for the continued cooperation, which goes beyond the simple client-supplier relationship. We have a genuine collaboration that involves knowledge and technology sharing to the benefit of all parties. The synergy has continued to grow the capacity of Nigerian indigenous companies in line with the objectives of the Nigerian Content Development Monitoring Board (NCDMD) of the Federal Government to grow the local content capacity and many people benefit from employment opportunities, both during the build and in the operation of this vessel."
Damen Regional Director Africa, Harm Blaauw, said, "Homeland is a very important client of Damen in Nigeria, with a very well organized management structure. We would like to express our sincere gratitude towards Homeland for the pleasant relationship over the past few years and we are looking forward to working together on a further expansion of the Homeland fleet and presence in the Nigerian maritime sector."
Jun 7, 2018