ICTSI Sells Stake in Motukea Port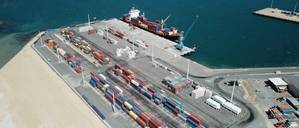 International Container Terminal Services, Inc. (ICTSI) is selling its 30% stake in a company that operates the Motukea Port, Papua New Guinea.

According to a stock exchange announcement, ICTSI South Pacific Ltd, a subsidiary of ICTSI, has entered into agreements with Noho-Mage Holdings Ltd. for the latter to acquire a minority stake in Motukea International Terminal Ltd. (MITL).

MIT is the sole facility in Port Moresby which can handle international containers. Ro/Ro and break bulk vessels are also accommodated in MIT.

It is also the only terminal in Port Moresby that offers mobile cranes (non-ship geared) and caters to vessels with drafts under 12.5m.

The deal follows the terminal operating agreement (TOA) entered into by ICTSI and the PNG Ports Authority for the 25-year agreement to operate the Motukea International Terminal in 2017.

The signing of the TOA, which provides that ISPL will own 70% while Noho-mage Holdings Limited will own 30% of MITL, was earlier disclosed to the Exchange last September 25, 2017.
Aug 12, 2019