Illegal Salvors Fined for Plunder of WW1 Shipwreck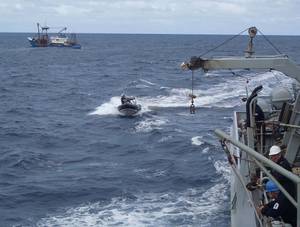 Thieves have been fined nearly £250,000 after being caught by the Royal Navy plundering a World War I shipwreck.
The crew of HMS Severn in 2016 found the Dutch-registered salvage ship Friendship lifting £90,000 of steel and copper stripped from the wreck of the SS Harrovian, 80 miles southwest of the Scilly Isles.
The British steamer was heading from New York to Le Havre in France carrying various metals for the Allied war - including more than 1,000 tons of copper bars, worth around £5 million today - when she was intercepted by German submarine U-69 in 1916.
After the crew were forced to abandon ship, the German submarine sank the Harrovian with its deck gun. No-one died in the sinking.
A century later and HMS Severn was on patrol around the Scillies in August 2016 looking lookout for trawlers breaking international fishing regulations when she was asked to investigate the suspicious activities of the Friendship.
Once aboard the Dutch ship, Severn's boarding team quickly determined the vessel's master, Walter Bakker, had no license to salvage the wreck - so they impounded his vessel.
It took a scratch crew more than two days to sail Friendship to Fowey in Cornwall, where she and her illegal haul was handed over to the Maritime Management Organization.
It took another 18 months to build the case against Bakker and the boat's owners - and six more months after that for sentence to be passed at Newcastle Crown Court.
Bakker admitted that he did not have the relevant license and explained how the ship's Automatic Identification System had been dimmed to avoid detection.
He was fined £2,000, the boat's owners Friendship Offshore BV £6,000 - and they were also ordered to pay nearly £45,000 in legal costs.
In addition, the judge, who stressed that the Harrovian was an important heritage asset to the nation and that the firm should pay more than £190,000 in compensation under a Proceeds of Crime Confiscation Order.
Severn decommissioned last autumn ahead of new generation River-class ships entering service.
Aug 23, 2018