Incat Tasmania Launches 111 Meter Ferry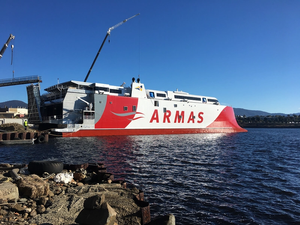 Incat Tasmania launched a 111-meter ferry -- Volcan de Tagoro (Incat Hull 091) -- from the shipyard at Hobart's Prince of Wales Bay on June 15.

Naviera Armas SA will operate the vessel on Spanish routes, including the Canary Islands. The company has an extensive fleet of vessels, and Volcan de Tagoro will be the fifth Incat vessel operating in the Armas fleet, however is their first newbuild from Incat Tasmania. The ship's crew will soon arrive from Spain to observe the vessel operation during trials in readiness for departure to her new Spanish home later in July.
Volcan de Tagoro has capacity for 1200 persons, including crew, and the expansive vehicle deck allows for almost 600 TLM (truck lane meters) plus 219 cars, or in car-only mode accommodates 401 cars. The ship is powered by four MAN 20V diesel engines driving Wartsila waterjets, and although speed trials have not yet been conducted, Incat predicts the vessel will have a top speed in excess of 40 knots.
Incat is continuing construction of three other vessels at the shipyard; the next launch later this year will be a 35-meter commuter ferry for service between Geelong and Docklands in Melbourne, followed by a 100-meter ship for Trinidad and Tobago in 2020 and another 111-meter ship for a European operator in 2021.
Incat has also signed a contract for construction of a 130-meter vessel for South American operator Buquebus and design work is well advanced on that ship.



Jun 17, 2019