Intellian Debuts New Terminal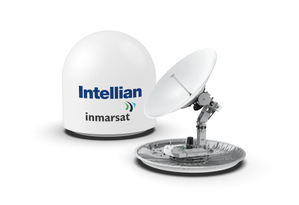 Intellian is unveiling a new 1m Global Xpress terminal, GX100NX at the Intellian Asia-Pacific Partner Event being held tomorrow in Seoul, Korea.
The Intellian GX100NX offers high-speed data and global operation, and efficient RF design for strong link performance on the Fleet Xpress service. It is also future-proof, with support for 2.5GHz Wideband Ka networks and optimized reflector and radome. GX100NX users can also unlock even higher levels of bandwidth with a 10W BUC option.
Based on Intellian's new NX technology platform, the GX100NX uses a single coaxial cable, which combines Tx, Rx, and DC power, to simplify installation. Its cutting-edge modular design results in lower cost of ownership throughout the entire lifecycle, while improving reliability and streamlining maintenance.
The GX100NX introduces a new 'All-in-One' GX Below Deck Terminal (BDT) which integrates an antenna control unit (ACU), a modem, a power supply, a 4-port switch and a mediator in a single unit to further reduce the time and cost of installation in Intellian's Fleet Xpress Rack.
The GX100NX will be commercially available at the end of June.


May 13, 2019