ABB Introduces New Compact Turbocharger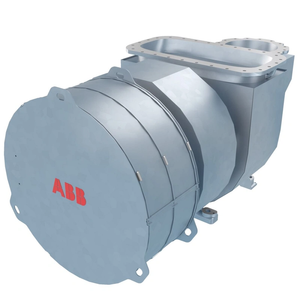 ABB Turbocharging has launched the new A255-L and A260-L turbochargers optimized for small and medium bore two-stroke diesel and gas engines.
Scaled down from the A100-L and A200-L designs, the new models offer a smaller size while retaining key design features incorporating the latest rotor component technologies. Their compact design allows installation flexibility in modern, space-optimized engine rooms.
Delivering the high-power density normally expected from larger turbocharger alternatives, the new A255-L and A260-L offers the marine engine market, turbocharger technology with more power density with a smaller frame size. For ship owners, these new turbochargers deliver high efficiency, lower fuel consumption and emissions. They also offer lower maintenance costs, allowing for optimized total cost of ownership.
Ahead of the Global Sulfur Cap entering into force on January 1, 2020 which will enforce a maximum permissible sulfur content of 0.5% for any fuel used on board ships (except for vessels using scrubber technology), an increasing number of ship owners are choosing to use liquefied natural gas (LNG) as fuel. LNG can be used on 2-stroke low pressure and higher pressure dual fuel engines.
ABB's new A255-L and A260-L turbochargers can be used on low pressure dual fuel engines to optimize combustion, improving engine efficiency and allowing for the reduction of GHG emissions. The high turbocharging efficiency provided by the new A255-L and A260-L turbochargers ensures that high air-fuel ratio is maintained in high-load operation, thus reducing the tendency for fast combustion which can adversely affect operation and emissions. The A255-L and A260-L turbochargers also facilitate the utilization of emission abatement technologies for NOx and SOx reduction.
Jun 12, 2019