St. Johns Delivers for Vane Brothers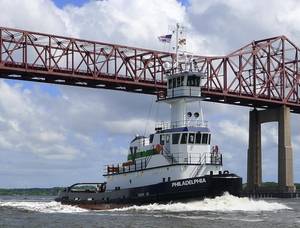 St. Johns Ship Building has delivered the newly built tug Philadelphia to owner Vane Brothers.
Philadelphia is the fifth of eight new hulls for Vane Brothers in the Elizabeth Anne tug series consisting of 100 feet LOA, 4,200 HP twin screw tugs.
"[Philadelphia] is identical to all the others in the series in regards to specifications and outfitting but, as most shipbuilders know, when you build vessels in a series each one will be just a little better than the previous. That is true with the Philadelphia," said Bobby Barfield, VP of Operations, St. Johns Ship Building. "All crafts from the fitters to the carpenters and each one in-between have fine tuned their method and final product to be better each time."
Apr 19, 2017