Kansas Man Charged for Cruise Ship Murder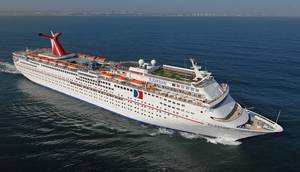 A man from Topeka, Kan. has been arrested for allegedly murdering his girlfriend on board a cruise ship in January 2018, prosecutors said.
The indictment alleges that 53-year-old Eric Newman killed Tamara Tucker, 50, of Lawson, Mo. while on board the Panama-flagged Carnival Elation on January 19 during a four-day cruise to the Bahamas from Jacksonville, Fla.
On the day after her death, Carnival said in a statement that Tucker had fallen from her balcony to several decks below early on the morning of January 19. The cruise line said the ship's medical team responded but was unable to unable to save her.
Newman made his first court appearance last Thursday on an indictment charging him with second degree murder. His detention hearing is scheduled for Wednesday.
Sep 10, 2018