Kleven, Lürssen Partner to Build Explorer Vessel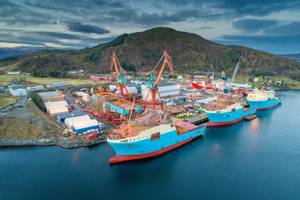 Norwegian shipbuilder Kleven said it has signed a contract with German based luxury yacht designer and builder Lürssen to collaborate for the delivery of a 100-meter-long exploration vessel newbuild for a non-disclosed customer.
Kleven said the vessel will be built, partly outfitted and technically finalized at Kleven Verft in Norway, before final outfitting at Lürssen's Blohm+Voss facility in Hamburg, Germany.
Kleven CEO, Ståle Rasmussen, said the exploration vessel project is the first result of the cooperation between long-term partners Kleven and Lürssen.
"The combination of Lürssen's world-known yacht designers, creating custom-built yachts like no other, and Kleven's modern and highly automated shipbuilding facility in Norway will provide unrivalled quality to our customers," Rasmussen said. "Kleven will be leaning heavily on their expertise derived from building highly advanced, world class offshore vessels."
Nov 14, 2017