APC Lands Multiple Turkish Tanker Deals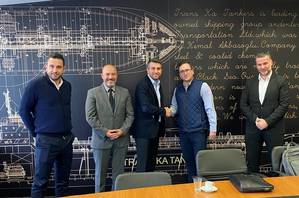 Advanced Polymer Coatings (APC) confirmed a series of new contracts to apply its MarineLINE tank coating system to newbuild and existing tankers, including:
A deal with Genka Shipbuilding will see MarineLINE applied to a newbuild 2,000-DWT oil and chemical tanker. Construction of the vessel at the Pendik Naval shipyard will get underway in January 2023.
APC also signed a contract with Okan Ogullari Shipping to coat its latest new build 10,500-DWT tanker. Construction work is also scheduled to start in January 2023.
In another deal, APC has been commissioned by Swan Tanker to recoat M/T Ipek-S, a 6,267-DWT oil and chemical tanker which was built in 2009.
The 2013-built tanker M/T Endeavour 15,995-DWT will also be recoated with MarineLINE in early 2023 after an agreement was struck with DüZGIT Shipping Management. The Istanbul based business has a five-strong fleet, all coated with the MarineLINE system.
Jan 30, 2023