Leaking Bulk Carrier Towed into Tallinn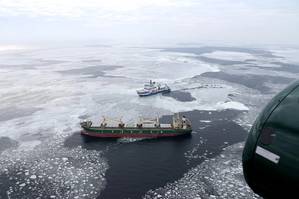 A cargo ship that sprung a leak in the Gulf of Finland last week has been towed into the port of Tallinn.
The Finnish Boarder Guard said several meters of water had flooded into the engine room and one of the cargo compartments of a Panamanian-flagged bulk carrier Glory Hongkong sailing in international waters to the west of Suursaari island en route to St Petersburg.
Pumping equipment was used to drain the cargo compartment, and the leak between the engine room and the cargo hold was stopped. No oil leaked from the ship into the sea at any stage.
The cargo ship had a crew of 22 on board, all of who remained on board and were not in immediate danger at any time, according to the Boarder Guard.
Units from the Finnish Border Guard, the Defense Forces, Kymenlaakso rescue services, Helsinki rescue services, Arctia Oy and the Estonian Police and Border Guard (PPA) took part in the operation or were standing by.
First to respond were Arctia Oy's icebreaker Nordica, which was located closest to the scene, the Border Guard's maritime SAR helicopter, as well as patrol vessel Tursas.
Finnish rescue crews and other SAR units left the cargo ship once the vessel's owners contracted a commercial operator to tow the ship to the port of Tallinn. Patrol vessel Tursas, pollution control vessel Halli and the Estonian patrol vessel Kindral Kurvits stayed on to provided backup for the towing operation.
Mar 12, 2018