Legislation Approves American Flag Registration for Superyachts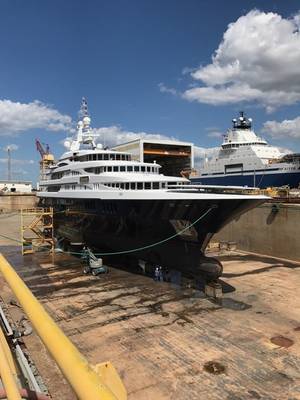 An amendment signed by President Trump on August 13, 2018, now allows private yachts over 300GT to fly an American flag as a U.S. registered vessel.
Authorization of HR 5515, commonly known as the John S. McCain National Defense Authorization Act, is the fiscal 2019 version of Congressional legislation setting priorities for the military each year. The bill, which received bipartisan Congressional support, increases the number of superyachts flying the U.S. flag, in addition to updating regulations for national defense, energy, cyberspace, intelligence, foreign nations, naval operations and shipyards.
Previously, Americans owning yachts exceeding the 300-GT limit could fly the U.S. flag only by registering their yacht as a commercial vessel as per laws written nearly a century ago. Commercial vessels are held to operational and construction standards not applicable to large yachts, causing complications for large yachts.
The sweeping legislation may lead to more superyacht repair, service and refits for domestic shipyards and subcontractors according to the US Superyacht Association (USSA), said Kitty McGowan, president of USSA, to the delegation's meeting in Fort Lauderdale, Fla. on August 14, 2018.
"The economic impact of more large yachts flagging U.S. could be significant, as these large vessels would now provide more high-profile opportunities for American crew, keep yachts traveling in US waters and spend more time in our repair and refit yards," said McGowan.
While the idea of more large vessels flying Old Glory stirs patriotism, industry experts are not sure how this legislation may positively impact domestic shipyards offering superyacht refit and repair.
"I don't know if it will have any impact, positive or negative, for us," said Doug West, president of Lauderdale Marine Center (LMC) in Fort Lauderdale, Fla..
Referencing Florida's cap on sales tax at $1 million, West points out that LMC's foreign trade zone (FTZ) status is an attractive proposition for any superyacht requiring service.
"They come here anyway, foreign or U.S. flag," said West.
On the other side of the sunshine state, Tampa Ship's deep draft and four graving docks provide service for the largest superyachts, focusing primarily on boats over 70-meters. Tampa Ship competes with European shipyards for dry dock and service.
"I don't know if the flag state will give Tampa Ship an advantage of disadvantage," said Chuck Levert, vice president of business development for Tampa Ship. "But I like the patriotic sentiment and would like to see owners of U.S. flagged yachts patronizing U.S. shipyards," he said. "Everything in Europe, we can do right here. I hope American big boat owners spend the majority of their dollars in U.S. shipyards."


Aug 20, 2018