OOCL Loses Containers off Dutch Coast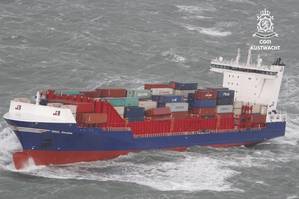 The Dutch registered container ship OOCL Rauma lost at least five containers on Tuesday afternoon, 25 miles north of Ameland off the coast of the Netherlands, said Netherlands Coastguard.

1,425 TEU vessel was sailing from the Port of Kotka in Finland to the Port of Rotterdam.

According to local media reports, the container ship had some trouble sailing due to the heavy weather conditions, which led to some containers falling into the sea.

The authorities said that five containers - containing paper and cardboard, - were reported lost.

The coastguard dispatched the tug AHTS Guardian and an aircraft to locate the containers.

The coast guard sent navigation warning to the shipping industry, containing the last known position of containers, given that the containers remain at sea and pose a risk for other vessels navigating in the area.

The Netherlands Coast Guard also posted pictures of the OOCL Rauma on Twitter.

Last year the MSC Zoe lost 342 containers in the North Sea, causing a natural disaster that cost millions of euros to clean up. Hundreds of thousands of kilograms of products ended up in the sea and washed up on the Wadden Islands.
Feb 12, 2020