MacArtney Delivers Automatic Bolt-torquing Tool to Siemens Gamesa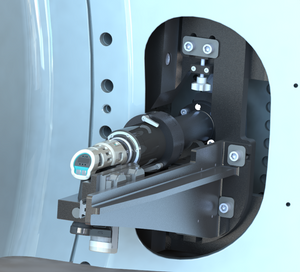 MacArtney said it has supplied an automatic bolt-torquing tool to Siemens Gamsea. The complete turnkey system designed, engineered and manufactured by MacArtney for the renewable energy sector tightens pre-mounted bolts/nuts between the hub and the generator without manual involvement.
The supply consists of two parts: a Turner tool that creates rotation of the generator and an automatic bolt tool for torquing. The Turner tool unit is transportable by a standard 3 T rapid forklift, and the torqueing tool is portable in a customized storage carriage certified for lifting.
After correct positioning of the Turner tool under the nacelle, and mounting of the torquing tool in the nacelle, the fully automated process is initiated. Prior to torquing each bolt, positioning of the hub/generator is achieved through an optical sensor system. Tightening of the bolts is carried out in two torquing stages. Data is continuously accessible and presented in real time by the control system HMI. For full traceability, the torquing process is thoroughly monitored and logged in a quality report.
During stage two of the bolt torquing sequence, all bolts are stamped with a "Torque Approved" mark, ensuring a valid and visible mark for manual inspection, thus guaranteeing that the bolts are tightened to the correct torque.
The sustainable and cost-efficient equipment ensures a secure process that contributes to lowering the total cost of energy, said MacArtney, who has been actively working with offshore renewable energy projects for several years, supplying state-of-the-art solutions to wave, tidal and offshore wind applications and projects around the world.
Jul 12, 2017