RMK Merrill-Stevens commissions new 100T Marine Travelift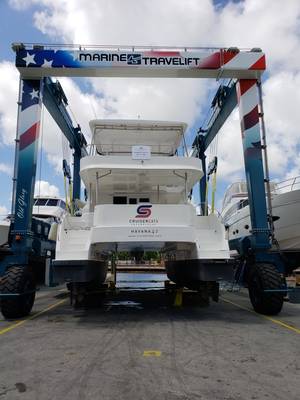 Adorned with stars and stripes, RMK Merrill-Stevens' newly commissioned 100T Marine Travelift Old Glory increases lifting capacity by 30-percent, enabling the iconic Florida shipyard to now lift and dry dock megayachts in the 70 - 90-foot range.
Commissioned on August 3, 2018, a 33-foot Sealine was the first vessel lifted at RMK Merrill-Stevens' south yard, followed by a 42-foot Cruiser Catamaran and an 82-foot Ferretti.
The 133-year old shipyard has embarked upon a new era of yacht refit and repair with a complete yard modernization program to service megayachts with haul-out, dry dock and complete refits.
In addition to Old Glory, capital improvements include complete infrastructure renewal with a new, state-of-the-art 2,700T shiplift in April 2019. In a totally renovated facility with new tooling, equipment, workshops and facilities for owners and crew, RMK Merrill-Stevens (RMKMS) hopes to transform an already bustling South Florida refit scene with the largest shiplift on the east coast of Florida, south of Jacksonville.
"The new 100T lift is a modern, efficient machine that's very maneuverable and more versatile," said Aaron Leatherwood, president and CEO.
Since Leatherwood joined RMKMS in July 2016, he's overseen the yard's redevelopment, organizing and streamlining operations. Leatherwood and his team are transitioning the yard from its core business, maintaining vessels under 150-feet, to prepare for more megayachts.
This refit on the Miami River is a total transformation from the ground up, one Rahmi M. Koç, Koç Holding's honorary chairman, told this reporter was "meant to be" during an interview at his Miami shipyard in February, 2017.
"Merrill-Stevens was a financially oppressed shipyard," said Koç. "This yard was an American orphan and had been neglected for along time. But it is still a strong brand and I am committed to restoring her to her former glory."
RMK Marine represents less than one-percent of Fortune 500 conglomerate Koç Holding's interests, a family run conglomerate with a turnover exceeding 60 billion USD. RMK Merrill-Stevens is personally owned by Mr. Koç, himself.
Wait-list for Miami shipyard
With a legacy servicing the grand yachts of yesteryear, like M/Y Highlander, M/Y Calypso and M/Y Kalizma, the creation of a contemporary, world-class yacht repair facility enables RMKMS to continue this tradition, providing services for a new era of technologically advanced superyachts.
The reinvigorated RMKMS is a hybrid of in-house skilled technicians and project managers with a healthy complement of quality, specialized contractors offering a 100-percent labor complement to the staff, which has expanded to about 40 employees.
"The yard is full," Leatherwood said, adding,"We are managing about 40 projects at the moment. These are all service projects, only one hurricane boat. There is a wait-list to get in."
The volume of projects at the shipyard has increased and the company has grown three to four-fold in two years, according to Leatherwood, who hired more skilled labor and a yard foreman, a buyer for procurement and the RMKMS marine store, and a new sales manager for the relaunched Merrill Stevens Yachts.
Expanded offerings include full paint renewal for superstructure, house and topside. The new RMKMS service response vehicle is offering basic, routine maintenance and repairs throughout the 305 in Miami-Dade County.
With the impending arrival of the new 2700T shiplift in April, Leatherwood is inspecting her construction progress later this month.
"That's big iron, very impressive" said Leatherwood, adding, A "hydraulic yard trailer is next."
Aug 6, 2018