Monet Cable System Ready for Service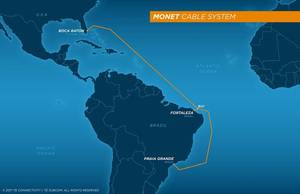 A 10,556 kilometer submarine cable enhancing connectivity from the United States to Brazil has been completed and is ready for service.
Commercial traffic via the intercontinental Monet Cable System is expected to commence shortly, announced project partners from the U.S., Brazil, Angola and Uruguay.
Monet is owned by Google, telecom company and internet service provider Algar Telecom, wholesale telecom company Angola Cables and telecom company Antel, and was built to provide a robust internet backbone to serve Latin America's current and increased future connectivity needs.
The 100G-capable cable system provides a low-latency route from Brazil to North America with a minimum bandwidth of approximately 64 Tbps. The cable system makes shore landings at Boca Raton, Fla.; Fortaleza, Brazil; and Praia Grande, Brazil.
Constructed using TE SubCom's Open Cables concept, Monet was built in a way that gives the consortium choice and flexibility in selecting line cards while continuing to take advantage of the latest wet plant technology, TE said.
"The open cable approach enabled each Monet party to meet its respective network objectives while still benefitting from the strengths of a joint build partnering model. Each of the parties, working with TE SubCom, was able to create a network that should meet our technology and cost needs well into the future," said Antonio Nunes, chairperson of the Monet Executive Committee.
Dec 5, 2017